A few weeks ago we ran a pre-review of a new BOOM! Studios book called "Broken World", written and created by Frank J. Barbiere. I was familiar with Frank, as I think most people are, from his series Five Ghosts, and I was really excited to see what this new series would be. You can read that review here:
4LN Comic Pre-Review: Broken World #1
Frank was nice enough to sit down and chat with us about Broken World, as well as his career and which movie monster he'd align himself with during an alien invasion! Check it out!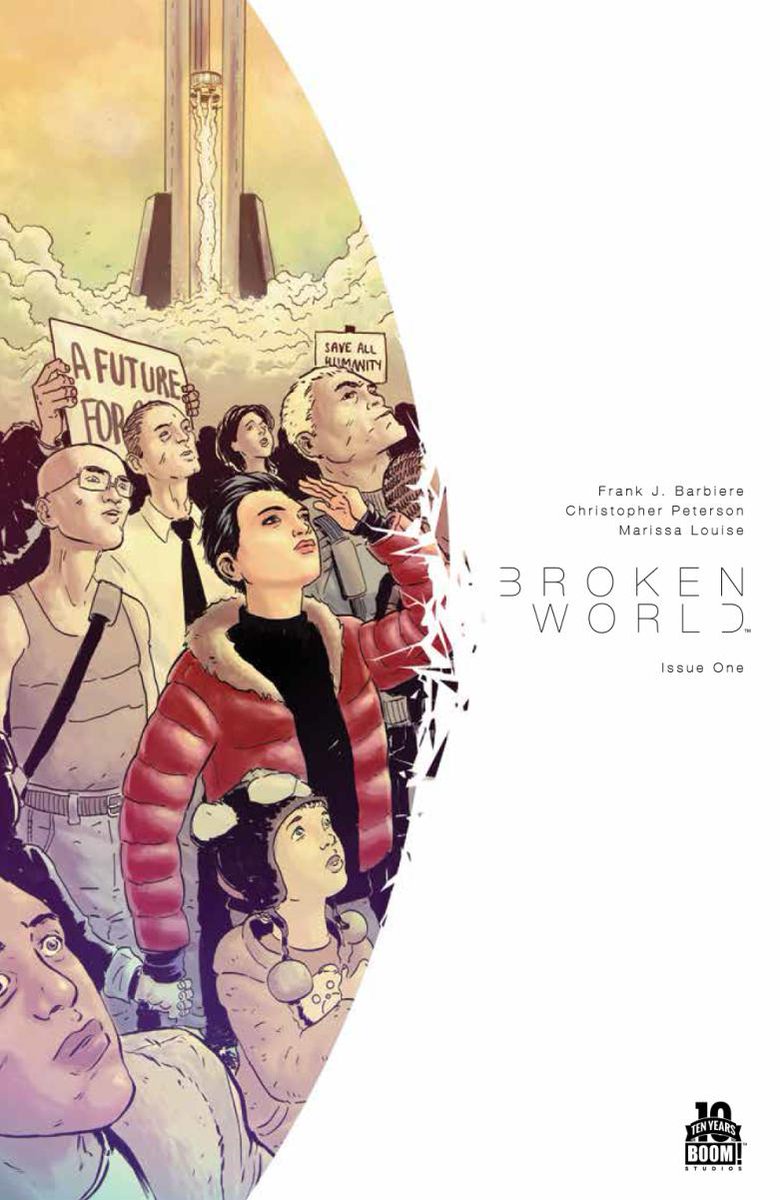 4LN – How did you initially get started in the comic book business?
Frank Barbiere – I broke in by self-publishing a few books, doing some shorts for Dark Horse, and then after self-publishing Five Ghosts #1 managing to find a home for it at Image Comics. Really, Five Ghosts was the thing that led to all my current projects, so I'll always be thankful we got an opportunity to do it, especially during the creator-owned explosion.
4LN – Are there any specific writers or artists who you would credit with having a significant influence on you and your creative style?
FB – I read pretty constantly, but in terms of comics it was Bendis who made me want to be a comic book writer.  I don't think I write anything like him, haha, but reading his work showed me that comics could be so much more than just simpler books I read as a child.  Also, seeing someone who can do such great creator owned work as well as work with Marvel characters was always inspiring.
4LN – Let's talk a little bit about your new series with Boom! Studios, Broken World. Where did the inspiration for this series come from?
FB – I've always been a fan of "survival" and "post-apocalyptic" stories, so I've been trying to find a unique way to do one for a long time.  I had been thinking about what could make mine special (and what could I say with it), and thankfully got very inspired and it all led to Broken World.
4LN – How would you say Broken World is different from any of your previous series?
FB – People love to throw this term around, but it's a lot more character driven.  Yes, there's a sci-fi/apocalyptic situation, but the book is about characters, their view points, and how their moral arguments in the face of the end of the world come into conflict.  I'm very proud of it in the sense that it's much more a drama than action piece, and I've felt a lot of personal growth working on it.  My editors Eric Harburn and Chris Rosa have been tremendously helpful in pushing me to make it some of my best work.
The art team on the book, co-creator Chris Peterson and colorist Marissa Louise, are both amazing as well.  They are wonderful collaborators and created work that is very easy to read, beautiful, and has great storytelling—things that are vital when doing a book like this.  I've really been lucky with my artistic collaborators so far in my career, and Broken World is no exception.
4LN – Lastly, what advice would you give to someone who's interested in pursuing a career in the comic industry?
FB – Make comics.  You have to get out there and start producing your own work; no matter how expensive or time consuming it is, that's the only way.  People expect to be hired because they have "great ideas"—that's not how it goes.  You have to make your own comics, it's the only way.  Be fearless and get out there—worry about doing great work and improving, and the rest will eventually sort itself out!
4LN – This next set of questions is our Lightning Round. Just answer with the first thing that comes to mind.
You're stranded on a desert island for the rest of your life, and you only have one book. What book would you pick?
FB – His Dark Materials by Philip Pullman.  So good!
4LN – What was the last concert you went to?
FB – I saw my roommate's awesome band GATES.
4LN – Lately, BOOM! Studios has been cranking out some great comics based on awesome 80's movies (Big Trouble in Little China, Escape from New York, Bill & Ted…). If given the opportunity, what 80's movie would love to write a comic book sequel to?
FB – I wish I could write CRITTERS comics.  I love those silly movies.
4LN – Final Question: A full-fledged alien invasion of Earth begins and you have the opportunity to stop it by choosing one of the Universal Monster's (Frankenstein, Wolfman, Dracula, etc.) to partner with and battle the aliens. Which monster do you choose, and why? (side note: you don't have to choose from just those three, Frank. Pick whichever one you want form those old classic films.)
FB – I'm going with Frankenstein—he's got no weakness like the other two, and he's already dead.  What's the worst that can happen?
You can follow Frank on Twitter here: @atlasincognita; and make sure to pick up Broken World #1, on comic shelves today!