Book: Legendary Star-Lord #1
Writer: Sam Humphries
Artist: Paco Medina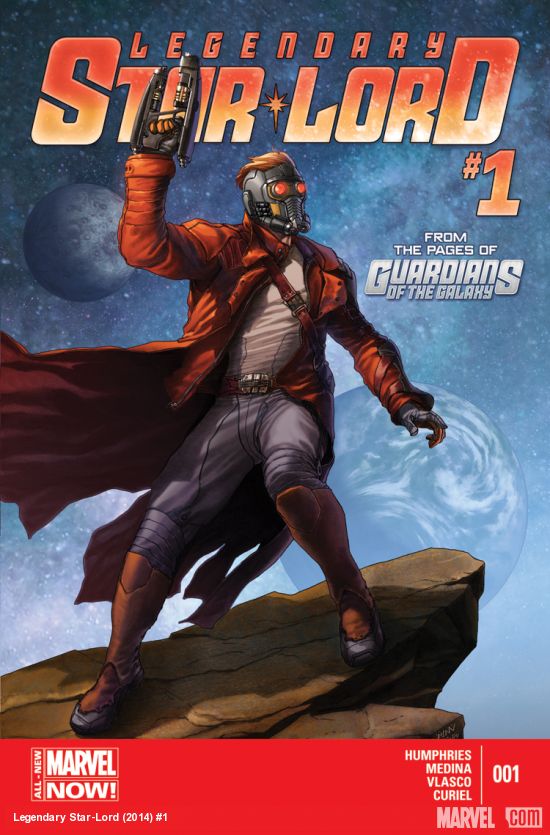 Summary from Marvel.com: "From the pages of GUARDIANS OF THE GALAXY! A brand new series from SAM HUMPHRIES and PACO MEDINA! In this exciting first issue, Peter Quill battles the Badoon, fights to save an orphanage, and still finds time for some flirting with Kitty Pryde–but it's all in a day's work for the STAR-LORD!"
Within the last decade, Star-Lord, or Peter Quill, has had a resurgence in popularity within the comics world. First, with Dan Abnett and Andy Lanning reintroducing, and essentially recreating  the team with the current line-up back in '08, and then again when Brian Michael Bendis took over for the MarvelNOW relaunch. Here, find Sam Humphries (Avengers A.I.) and Paco Medina (Nova) jumping in and continuing the adventures of Star-Lord.
The Good:
The story kicks right in. There's not a lot of bullshitting around and what not. I like that. It's great seeing Peter Quill out there all on his own because, sure, he functions effectively as the leader of the GOTG, but how does he handle things when he's on his own without all his muscly murderer friends around to help? This book show us. Quill's intuition and "street smarts" are more than enough to help him wiggle his way out of a tight spot. Humphries really knows how to get to the point in a comic and make sure you have fun getting there. And the cliffhanger at the end, I'll admit, I totally didn't see that coming.
The artwork in the book is very good. Paco Medina is great with detail, but he isn't overzealous or pretentious. He knows he's drawing a comic book at that's exactly what the hell he does here. He draws a solid comic.
The Bad:
I can't say that I found anything inherently "bad" in this book, but I am concerned about it's success going forward. I can already see the tendency that may exist for this book to rely on guest characters to keep it afloat. I read Humphries' "Avengers A.I." for a while and I just got tired of it. Not that there weren't some interesting things in that series, but they just weren't all that interesting TO ME. I hope that doesn't happen here.
The Final Say:
If you've been reading Bendis' "Guardians" book, then I definitely recommend picking up this issue. I honestly wouldn't recommend it to new comic readers only because there's a lot of back story you need to know while reading it. If you're looking for a new book to jump on, I would recommend "Rocket Raccoon" #1. I give this book a 3 out of 4. I'm gonna keep reading it for a while to see where it goes, but I don't feel very invested yet.