Warning: Spoilers Ahead. Read At Your Own Risk
This New Comic Book Day has brought about many revelations to comic readers. Apparently, Steve Rogers is, and always has been(?), an agent of Hydra (Captain America: Steve Rogers (2016-) #1) and the reason for DC Comics' reboot (DC Universe: Rebirth (2016) #1) is explained as being the result of some villainous(?) actions by the Watchmen's Dr. Manhattan. (Also, the Joker has really been 3 different people?) Should we really be surprised by this stuff though? I mean, pretty much nothing these two publishers have done with comics in the last few years has made much sense. There have been so many continuity inconsistencies and character changes. Nuke was dead, and then he miraculously and inexplicably… wasn't. Falcon is Captain America. Lobo isn't actually Lobo, Deathstroke de-aged, Jane Foster is Thor, etc. etc. (With the one exception being X-23 as the new Wolverine. That actually makes all of the sense.) It's a wonder they don't just come right out and say, "Yeah… we just want your money, we really don't care about the characters or maintaining cohesive plots and stories." Obviously, with the new Cap and Rebirth being #1 issues, there are plenty of places the stories could go and we"ll just have to see how it all plays out, but it got me to thinking… what other big changes could potentially be on the horizon for our beloved comic characters? Here are my speculations on what we might see in the future of the Marvel and DC comic book universes.
Galactus has been Daryl Hannah from the remake of Attack of the 50 Ft. Woman this whole time.
Killer Croc will discover that he actually has some alligator in his family ancestry and it will shake him to his emotional core.
Power Girl has actually been a drag queen all this time. (Consequently, millions of neckbeard fanboys are forced to reevaluate their sexual identity.)
Uncle Ben faked his death and became Uatu the Watcher (who was subsequently also murdered…)
Frank Castle begins seeking anger management therapy and, after finding a more fulfilling life in organized religion, decides to hang up his Punisher skull to take on a new moniker… The Youth Pastor.
Poison Ivy discovers that there has been a poison ivy cure for like ever and changes her name to Poison Oak. Zatanna starts to tell her that this also has a cure but is quickly stopped by Catwoman who urges her to "just let it happen."
H.E.R.B.I.E., the Fantastic Four's faithful robot… Servant? Sidekick? (Sex Toy…?), is revealed to be the driving force behind infamous government-intelligence-secrets leakers Edward Snowden and Julian Assange.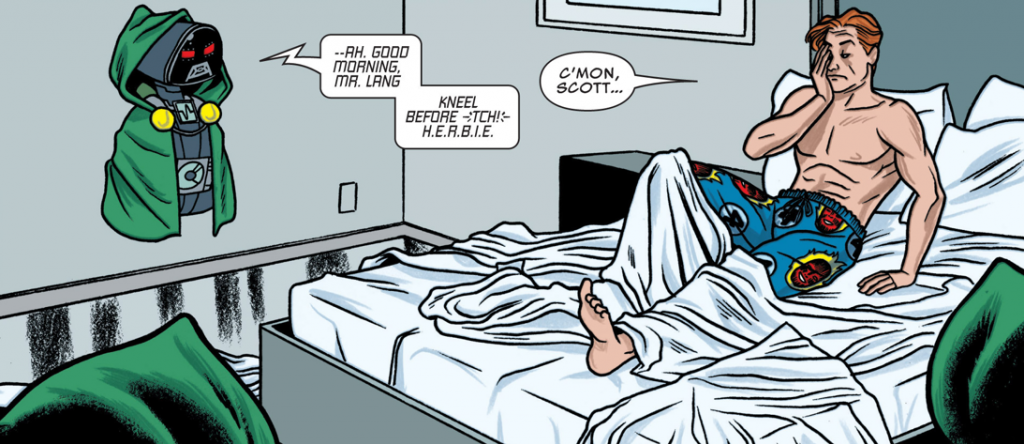 Doctor Doom forgets to renew his medical licence and is henceforth known as "Grumpy McMetalface."
Aunt May, Martha Kent, Peggy Carter, and Frigga the All-Mother begin living together in a condo in Florida (yes, like the Golden Girls) and it becomes the highest and fastest selling comic book of all-time.
Unable to go on fighting crime due to succumbing to crippling scurvy, Batman is forced to retire and choose a replacement who can go on protecting the city of Gotham. In a delusional state, and with no one close to stop him, Bruce chooses 8 raccoons to succeed him as Batman. That's right, just 8 raccoons in a Batsuit. One to work each arm, one to work each leg, one to work the head, and three in the torso, mostly for load bearing but also because an empty abdomen area would be a dead giveaway during fistfights. (Follow up: The raccoon's turn out to be an even better Dark Knight than Bruce and Gotham actually becomes a city of flourishing promise for awhile, but then ultimately is brought down again because of gentrification, which, let's be honest, not even 8 raccoons in a Batsuit can stop.
Now, I'm not saying that ALL of these things will happen, but it's 100% likely that at least 90% of them will. I guess we'll just have to keep shoveling our cash into Marvel's and DC's pockets until all is revealed. Now, get out to your local comic shop and pick up some comics! While we're worshiping The Big Two with our monetary offerings, how about grabbing some indie publisher comics too! You can pick up new issues of great series like East of West, Tokyo Ghost, and Bloodshot Reborn, as well as trades for Symmetry, Ninjak, and Day Men!