Bleeding Cool is reporting that that are rumors of both William H. Blackman's & Michael Del Mundo's "Elektra" and Felipe Smith's & Tradd Moore's "All-New Ghost Rider" being offered up to Marvel's comics-series-chopping-block.
All-New Ghost Rider To Join All-New Ultimates In Cancellation With #12?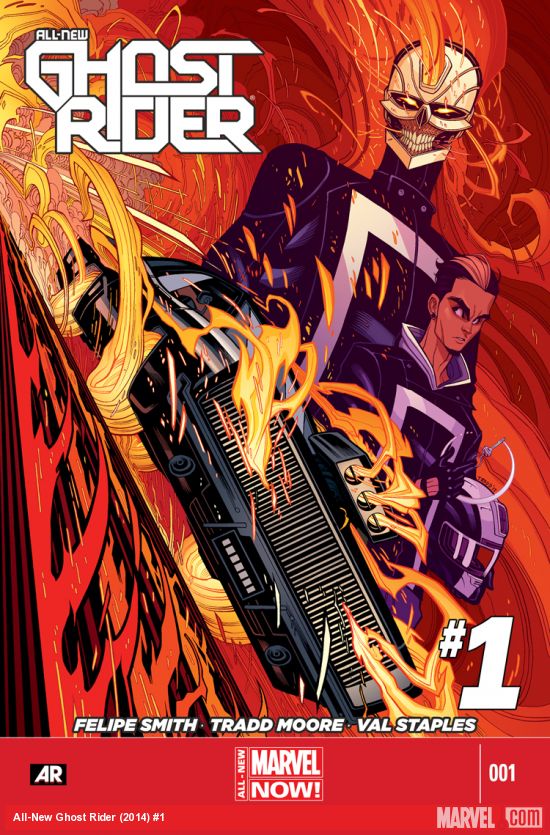 Coming from someone who's been reading both of these books, it's a pretty big bummer. I mean, I can't blame Marvel for making the right business decision for themselves, but these really are two of the best books Marvel is putting out right now. With both of them, the writing and art is top-notch. There's not a single weakness or flaw.
With "Ghost Rider", you've got a new guy taking over (or being taken over by, rather) the Spirit of Vengeance, Robbie Reyes. This guy balances work and school, taking care of his special needs little brother all on his own, AND letting the Rider use him to be the vessel for punishment of the guilty. I have a hard enough time getting around to sweeping the kitchen most days, and I only have to balance taking care of 3 kids.
The artwork on "Ghost Rider" is very modern. It's drawn very cartoon-ish and there are lots of bright colors. When I say it's "cartoon-ish" I don't mean to suggest that it's cheesy or anything. The art style here very much helps keep the book light amidst some of the darker, more violent moments.
"Elektra" is a very different style of comic. It's definitely darker in tone, and there's no humor to it. It's bleak, but without being too disparaging. The story follows Elektra as she takes on a bounty gig, hunting down another former bounty-hunter named Cape Crow. She also finds herself being hunted as well, by an brutal Australian serial killer named Bloody Lips. Now, Thor: God of Thunder has been my absolute favorite of the MarvelNOW titles, and a big part of that is because of the books villain, Gorr the God Butcher, in the first story arc. I, personally, loved Bloody Lips almost as much I love Gorr. The character is just so vicious and unrelenting. He's downright terrifying at times.
In addition to these cancellations, the All-New Invaders series has apparently been put "on notice". Meaning, it will be an issue by issue basis book and could have the plug pulled at any time, but not *just* yet,
This is another one I've been reading (I'm bad luck for comics apparently) because it's written by James Robinson, the man who brought me back to DC with his Earth 2 run. He does great work with classic characters and with this series (plus some cameos in his Fantastic Four run as well) he has single-handedly made Jim Hammond, The Original Human Torch (although technically he's an android) relevant again. FOR YEARS, nobody has cared about the character but James has been writing him so well that you just can't help but root for the guy.
As much as I love this title, if I'm being honest, I can totally see why, from a business standpoint, it makes sense to not keep it around. Cap had all his super-soldier serum sucked out in his solo book, Bucky is getting ready to start his own new Winter Soldier series, Namor is up to all kinds of sneaky business in Avengers, and the aforementioned Jim Hammond could easily be transitioned into another series now that he's been made a S.H.I.E.L.D. agent. I couldn't really blame Marvel for sending this one to the big comic shop in the sky.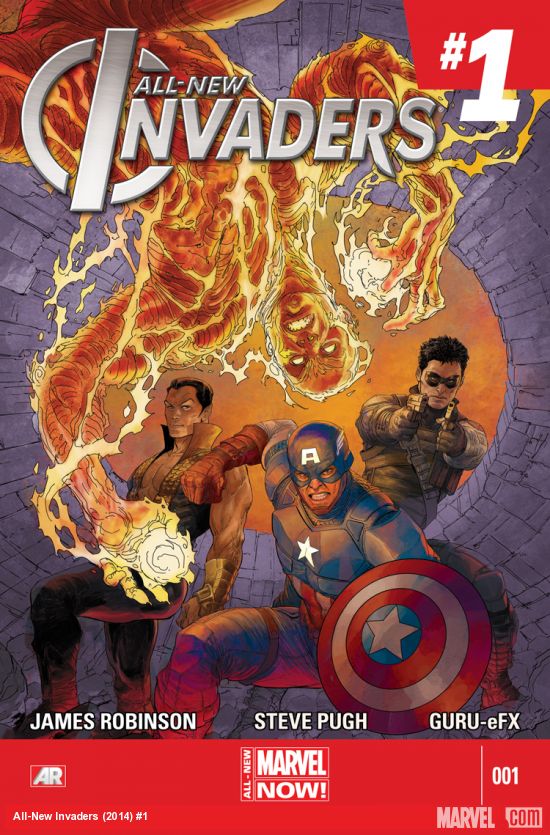 I highly recommend that you head out to your local comic shop and pick up at least the first few issues in these series. (Drop by Comic Collector Live: the Store sometime and we'll hook you up!)
I suppose they just couldn't get enough hype around these series to sell enough to make them worth continuing to publish. If the rumors are true, and they do get cancelled, I hope Marvel is smart to keep these creative teams around at least. They've all been doing amazing work and it'd be a shame to lose them.