For years, comics have had a decent presence in the world of TV, but it seems like the upcoming 2014-2015 TV season (and beyond) is going to be the biggest ever for comics adapted to be television shows. Lets take a look at what we can expect…
New Shows:
Gotham
From the official synopsis:
"Before there was Batman, there was GOTHAM. Everyone knows the name Commissioner Gordon. He is one of the crime world's greatest foes, a man whose reputation is synonymous with law and order. But what is known of Gordon's story and his rise from rookie detective to Plice Commissioner? What did it take to navigate the multiple layers of corruption that secretly ruled Gotham City, the spawning ground of the world's most iconic villains? And what circumstances created them – the larger-than-life personas who would become Catwoman, The Penguin, The Riddler, Two-Face and The Joker?
GOTHAM is an origin story of the great DC Comics Super-Villains and vigilantes, revealing an entirely new chapter that has never been told. From executive producer/writer Bruno Heller ("The Mentalist," "Rome"), GOTHAM follows one cop's rise through a dangerously corrupt city teetering on the edge of evil, and chronicles the birth of one of the most popular super heroes of our time. "
There's no denying  that this is by far the most anticipated of the new comic-based TV shows. The cast is incredible, the tone feels dark and gritty, and we all love a good origin story.
Flash
From the official synopsis: "Barry Allen was just 11 years old when his mother was killed in a bizarre and terrifying incident and his father was falsely convicted of the murder. With his life changed forever by the tragedy, Barry was taken in and raised by Detective Joe West, the father of Barry's best friend, Iris. Now, Barry has become a brilliant, driven and endearingly geeky CSI investigator, whose determination to uncover the truth about his mother's strange death leads him to follow up on every unexplained urban legend and scientific advancement that comes along. Barry's latest obsession is a cutting edge particle accelerator, created by visionary physicist Harrison Wells and his S.T.A.R. Labs team, who claim that this invention will bring about unimaginable advancements in power and medicine. However, something goes horribly wrong during the public unveiling, and when the devastating explosion causes a freak storm, many lives are lost and Barry is struck by lightning. After nine months in a coma, Barry awakens to find his life has changed once again – the accident has given him the power of super speed, granting him the ability to move through Central City like an unseen guardian angel…"
This series spins out of the current series Arrow, on the CW. The main reason I'll watch this is for Tom Cavanagh, who I just love in everything, and because the original TV Flash, John Wesley Shipp, has been cast in the role of Barry's father. That makes me so excited!
Constantine
From the official sysnopsis: "Based on the wildly popular comic book series "Hellblazer" from DC Comics, seasoned demon hunter and master of the occult John Constantine specializes in giving hell… hell. Armed with a ferocious knowledge of the dark arts and his wickedly naughty wit, he fights the good fight – or at least he did. With his soul already damned to hell, he's decided to leave his do-gooder life behind. But when demons target Liv, the daughter of one of Constantine's oldest friends, he's reluctantly thrust back into the fray – and he'll do whatever it takes to save her. Before long, it's revealed that Liv's "second sight," an ability to see the worlds behind our world and predict supernatural occurrences, is a threat to a mysterious new evil that's rising in the shadows."
I'm one of those blasphemous people who actually liked the Constantine film. Not that I'm the world's biggest Keanu Reeves fan or anything, but I think the movie is a fun watch. However, I fully realize that this will be a better interpretation of the true nature of the character.
Agent Carter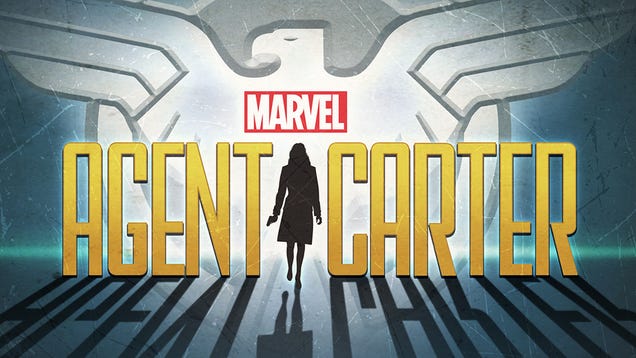 From Marvel.com: "It's 1946, and peace has dealt Peggy Carter a serious blow as she finds herself marginalized when the men return home from fighting abroad. Working for the covert SSR (Strategic Scientific Reserve), Peggy must balance doing administrative work and going on secret missions for Howard Stark all while trying to navigate life as a single woman in America, in the wake of losing the love of her life–Steve Rogers."
I'm pumped for this show. I think it's about damn time that we got another ass-kicking female lead TV show, like Buffy or Alias. I hope to see the Howling Commandos make an appearance. Not that this will happen, but seeing Peggy lead Dum Dum and the boys into battle against the likes of Baron Zemo and Hydra would elevate me to an 8-year-self level of excitement.
Preacher
Official AMC Description: "'Preacher' follows Reverend Jesse Custer, a tough Texas preacher who has lost his faith, and has learned that God has left Heaven and abandoned his responsibilities. He finds himself the only person capable of tracking God down, demanding answers, and making him answer for his dereliction of duty. Accompanying Jesse on his journey is his former girlfriend and a friendly vampire who seems to prefer a pint in the pub to the blood of the innocent. On his tail is one of the most iconic bad guys in print – an immortal, unstoppable killing machine named the Saint of Killers —a western lone gunman archetype whose sole purpose is to hunt and kill Jesse."
I'm excited about this since Seth Rogen and Evan Goldberg are in charge of adapting it for television. The co-creator of the series, Garth Ennis, is one of my all-time-favorite comic book writers and he's also really excited about the direction and vision the guys' have for the show, so that makes me really trust that they'll do it justice.
Returning Shows:
Agents of S.H.I.E.L.D.
I won't drop any major spoilers for those of you who may catch up on the show before the next season begins, but suffice to say, the events of Captain America: The Winter Soldier and much of what takes place at the end of the first season leads us into the next with Coulson and his team picking up the pieces of a disassembled S.H.I.E.L.D.
Arrow
The season 2 finale of Arrow saw Oliver and his team partnering up with the League of Assassins to protect Starling City by taking on Deathstroke (Slade Wilson). At least that's what I read. I haven't actually caught up on Arrow so I'm not sure what all is really going on. Everyone that I know who watches it raves about how brilliant it is. I will be getting caught up before season 3 though so that I can watch regularly when the show comes back.
The Walking Dead
Here's another show I'm not personally caught up on, but I intend to get there. I'm only through season 2. Again, everyone says it's really gotten better. As I understand it, the 4th season ends as Rick and the group are traveling to a a supposed safe-zone called "Terminus". Really pumped to see how things turn out.
All this, plus the new Marvel series' that'll be premiering on Netflix! It's a good time to be a comic book nerd.
So, which new series and returning series are you most excited for? Let us know!