Marvel has recently announced some new comic series and #1 re-launches for a few of their titles and characters. It's always an exciting but equally anxious time when these announcements come because the idea of a new take on your favorite characters is promising, but the fear of how ridiculously absurd the back-story could change on those same characters is extremely stressful. I mean, within the last year, Peter Parker was "killed" and his body has become "possessed" (that's the word I'm going with so deal with it nerds) by the consciousness of Doctor Octopus, and Tony Stark was revealed to not actually be a biological Stark. Instead, he was apparently adopted and the real biological Stark son is named Arno.
I'm being a bit of an ass about this, I know. And I promise that it's normally uncharacteristic of me to get upset about origin and story changes. The Iron Man 3 Mandarin Twist? Really didn't bother me. The new Amazing Spider-Man origin alterations? Love 'em honestly. I never really thought Tobey Macguire was that great of a Spider-Man anyway. He was alright, but he wasn't amazing. But I suppose that seeing it an a movie, which is a completely different media outlet, is just easier for me to accept changes with. Like, I tend to be more of a traditionalist when it comes to the comics. It's difficult for me to really support a major comic change because that's where my strongest loyalties lie.
This brings me BACK to the subject of  this article… New Marvel Comics for 2014. Take a look…
Wolverine
The current run on Wolverine will end and this new story arc will re-launch the series as a #1. The new direction will see Wolverine working for a mob boss, which suggests that he's on more of a "villainous" path than he's ever been before. Wolverine as a bad guy? OK, I'll bite. But one of the things that makes Wolverine such a great character is his intrinsic sense of wrong and right. I wouldn't call Wolverine a man of great morality or anything, but he always seems to know what the difference between good and evil is. I'll probably at least check out the first couple of issues to see what it's all about.
The Fantastic Four
LOOK AT THAT FREAKIN COVER! How unbelievably epic is that?! Alex Ross, who is  relentlessly talented and should make all other artists ever feel inadequate, drew that beautiful masterpiece. Combine that brilliant artwork with writer James Robinson's ability to convey raw emotion with unflinching brutality and what you have here is the first Fantastic Four series that I will ever read. If you can't tell, I'm actually REALLY excited about this series. James Robinson is one of my favorite writers and I love that he's writing this and The Invaders for Marvel. Both classic superhero teams that can be the center of very intense stories when placed safely in the hands of a good writing team.
Winter Soldier
Rick Remender is another writer that I'm a really big fan of. I've own his Punisher Omnibus and his current run on Captain America has been so crazy it's perfect. My initial reaction to the news of this new series is well documented on Twitter…
As I mentioned, I'm a fan. I just think the guy can do anything. The idea of a spy-noir Winter Soldier story set in the 60's is just cool. That's the only word that perfectly describes it… Cool. One thing I really like about this is that it's not trying to change things about Winter Soldier. It's a 5-issue, one-off story that (I'm assuming) takes place during one of his missions between his "cryostasis" periods.
Nova
I'm a *woman of the street* for comic book writers. Here again is a guy I greatly admire, and this one's taking over a book that I'm already reading! Gerry Duggan has been writing on the new Deadpool series (which is a series that Bill the Intern and I will always be in disagreement over) with one of my all-time favorite comedians Brian Posehn, but now he's also stepping up to write for Nova. Another reason I'm excited about this is because he's bringing Beta Ray Bill back to comics starting with his first issue, #13. I'm a big fan of Beta Ray Bill as well so this book has a got a lot for me to be pumped about.
Ms. Marvel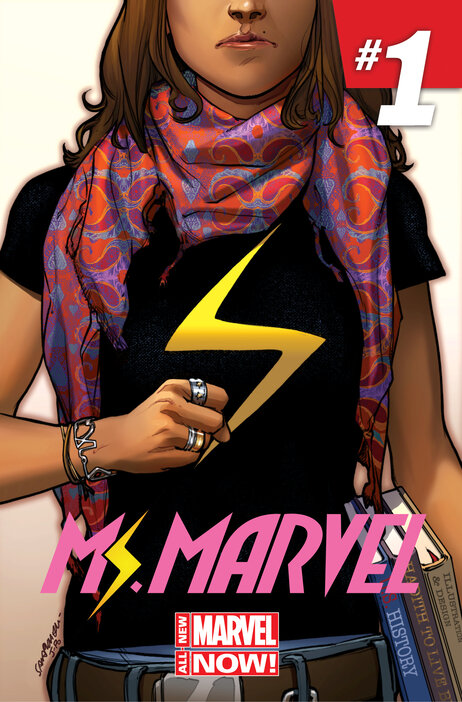 Now, we already covered this particular comic in a previous article, but it's still worth mentioning here because it's a brilliant concept… A FEMALE, MUSLIM SUPERHERO! I'm on board. You literally don't have to convince me. I will read this no matter what.
If you're not reading anything right now, any one of these (with maybe the exception of NOVA, since it's still technically a continuation of the current story) wold be good jumping-off points. Hopefully most, if not all, of these titles will live up to the hype that surrounds them. There's nothing worse than being really excited about a new comic series only have it let you down; but there's nothing better than when one totally lives up to your expectations.