(Editors Note: This article was written by our good pal TS Hendrik from The Non-Review. Head over to his site to enjoy more sophisticated wit, with only a tad bit of nit.)
Tis' the season, for stuffing the stockings, and yuletiding our logs. A time for goodwill towards your fellow man, so long as he's not standing between you and the furby your kid will love. Furbies… Who the hell thought they'd be back? But most of all it's the time of year for watching those guilty pleasure Hallmark and Lifetime films that, the rest of the year, we'll deny quicker than Peter denied our lord and savior, born to us this month(ish).
Now, any fool can put together a list of films that represent the cream of the crop. I know, I've played the part of the fool myself. But for us hardcore Xmas movie junkies, what's left when you're needing that final hit? You've already downed Love Actually and It's a Wonderful Life. Lord knows a man can only sit through so many viewings during the 24 hour A Christmas Story marathon or the 3 day Elf marathon. So where to turn to? Well Netflix of course. But wading through the crap to find the top backup singers is a chore. No problem. I've got you covered.
Here are the top five forgotten Christmas movies on Netflix this year.
…And not a Tito in the bunch.
5. Crazy For Christmas
I hate that I enjoy this one. The plot, a single mother, poorer than the writing and acting in the film, has no choice but to work on Christmas, chauffeuring a rich man around as he gives away money to total strangers. The mother is cranky and whiny about the guy giving away his cash. The whole film annoys me actually, yet here it is, this time of year, and I find myself watching it for the third year in a row. Maybe there's a compelling element. Maybe I'm just a sad man on an xmas binge. Who can tell anymore?
4. Holiday in Handcuffs
Don't look at me that way. I can feel your glare. Is it the Melissa Joan Hart, or the Mario Lopez that has you staring me down like a rabid monkey that knows there's a banana behind my back? Okay, yes, this is one seriously painful Christmas movie. It doesn't make a lot of sense, and well, one can't expect any amazing performances, can one? Originally I watched it for Gabrielle Miller, who has basically no role in the film (and is far more enjoyable in another cheesy xmas film, not on netflix, that basically rips off The Holiday) but soon found my sadist nature enjoying it for how painful it is. Something only a true addict would understand.
3. All I Want For Christmas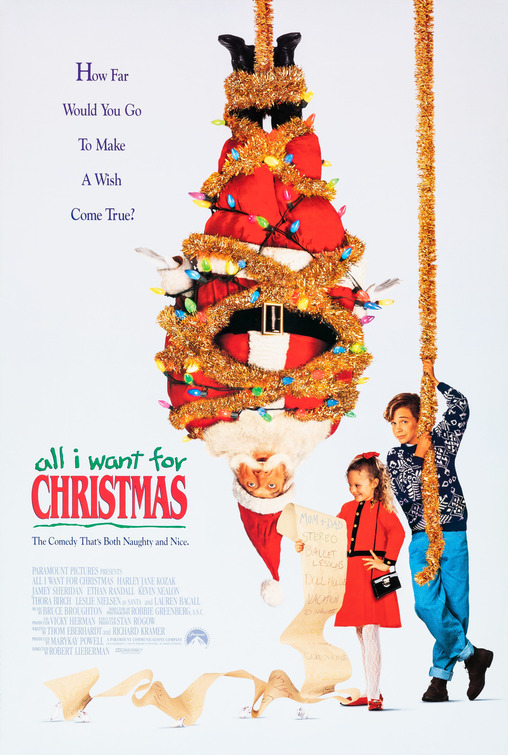 Alright, this isn't exactly an unknown quantity, but it is an often overlooked Christmas cookie of a film. In a nutmeg, it's brother and sister who for Christmas are attempting to get their parents back together. And seriously, with a small, almost cute Thora Birch, Kevin Nealon, and a young Ethan Embry, what more do you need?
2. Fireplace For Your Home
What? Oh, come on, who doesn't like a fake fireplace crackling on their TV, Christmas night? I'm sorry, but it's awesome. You say you don't count it? Fine, I'll do two for the last slot.
1. Snow & Snow 2: Brain Freeze
Tom Cavanagh as a Santa in training who falls for the ever lovely Ashley Williams. There's a lot of Santa scrambling to get back in time for Christmas Eve, and Young Santa films out there, but this one delivers with quality. Did I say quality? Well, yes, as far as an ABC family film can deliver on quality, this film does just that. Did so well in fact they made a sequel. Which was surprisingly, urm, okay I finished it because of Ashley Williams. She's, how do you say… a hot Mrs. Clause? Well, sometimes. Sometimes I think she looks a little like a velociraptor. Not really sure what that says about me and dinosaurs…
So there you have it, the top five not the cream, but not the chaff, of the crop of Christmas films on Netflix. As a bonus, here's some of the best Christmas TV episodes on Netflix in no particular order:
The Office (US) – Season 2, Christmas Party – Sweet for Pam & Jim, hilarious for Michael being an ass. You know, basically ever episode.
Futurama – Season 2, Xmas Story – Killer Robot Santa, Bender taking advantage of homeless robots. What Christmas is all about.
Doctor Who – Season 2, The Christmas Invasion – My love of David Tennant is well documented, but this is the one instance where I would have tipped the hat towards Matt Smith as my favorite episode for his doctor is a Christmas episode. Unfortunately I don't see it on netflix so I'll have to default to 10, which has a couple of excellent xmas episodes himself.
Everybody Loves Raymond – Season 4, The Christmas Picture – Who doesn't love Raymond? Other than his brother I mean. HAHAHAHAHAHA-ahh… I'm such a (Christmas) card. CBS. Sorry, just felt like the network would have rubber stamped that last joke.
Mr. Bean / Merry Christmas Mr. Bean – Mr. Bean? Mother Flippin' right Mr. Bean. The episode is best remembered for the turkey on his head, but I always think fondly on it for his obliviousness and sadness. And the hilarious Toy Store scene.
So that's it. Get off the couch and go get on that couch and enjoy all the blessing of the season Netflix has to offer. Merry Christmas to all, and to all, a goodnight.