Series: Bitch Planet
Writer: Kelly Sue DeConnick
Art: Valentine De Landro, with Cris Peter & Clayton Cowles
Publisher: Image Comics
Summary from Comixology: "2014 Best Writer Eisner Award nominee KELLY SUE DeCONNICK (PRETTY DEADLY, Captain Marvel) and VALENTINE DE LANDRO (X-Factor) team up for the very third time to bring you the premiere issue of BITCH PLANET, their highly-anticipated women-in-prison sci-fi exploitation riff. Think Margaret Atwood meets Inglourious Basterds."
Overview –
Bitch Planet seems to set-up a dystopian future where people, specifically woman, can be imprisoned on a whole other planet for not being "compliant". The story is tough to explain without giving away too many spoilers but suffice to say, it's definitely an exploitation-style series.
I like Kelly Sue as a writer. I haven't been reading Captain Marvel (even though I actually picked up all the issues recently, I just haven't gotten around to reading them), but I LOVE Pretty Deadly, the supernatural western that DeConnick wrote and put out on Image earlier this year. So, I've been pretty excited about Bitch Planet and avoided knowing anything about it prior to it's release.
Highs –
You're gonna hear a lot of people say that Bitch Planet is similar to Orange Is The New Black, and also various modern exploitation films like the aforementioned Inglorious Basterds, but really, to more accurately describe the feel of the book, I think you need to say that it's like Caged Heat, or The Big Bird Cage, or Women in Cages, or The Big Doll House. Classic 70's exploitation flicks about women behind bars. (There was quite the saturated market of those it seems…)
You can tell she knows what she's doing because there are no punches pulled, literally. At one point, early on, there's a women's prison riot. Many punches are thrown, lots a hair is pulled, and nobody is wearing clothes. Well, the guards are. It's exactly what you'd see in an old exploitation movie except the women aren't all 10's. Which is where the brilliance of the art comes in…
De Landro does an AMAZING job of drawing these women perfectly imperfect. They feel real. There's a character named Penny Rolle, and Penny is a big girl. She's also a bad ass that you do not want to mess with. The way she is artistically depicted is flawless. She's not a 36-24-36 girl. She's more like 52-104-80, and she will not hesitate to throw a right hook that hits like a sledgehammer.
Beyond that, the art has a very raw, natural feel to it that partners flawlessly with the story and theme of the series.
Lows –
I don't have anything negative to address here. I found nothing to define as a "Low" point in Bitch Planet.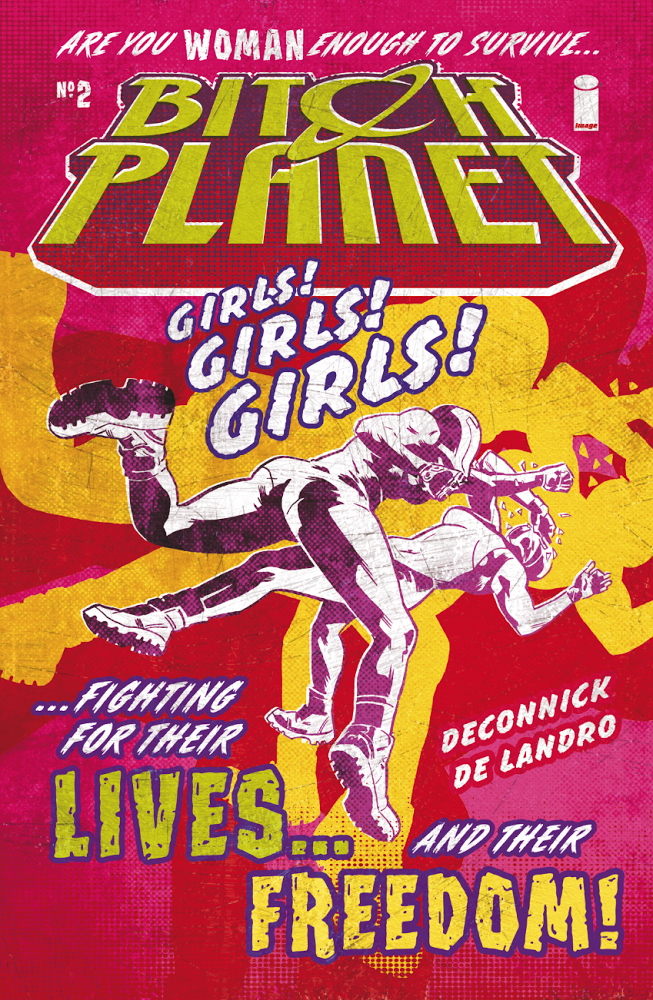 The Final Say –
Bitch Planet is getting a 5 out of 5 stars from me. It's one of the best #1 issues I've read this year and I was very impressed with it.
It clearly has feminist overtones, and with good reason, but besides that, it's also just a well-crafted story. The ending is totally unexpected, but yet it's not really a "surprise" or "twist". It's more of a change in the direction of the plot. They do that a couple of times actually. If you're looking for a wild ride comic, look no further. Bitch Planet is as wild as it gets right now.