There's a term in law practice, "Tainting the jury pool", that first came to my mind when I saw the BvS reviews from film critics. They're pretty much all negative, and what happens when people see that is: half of the audience (the fanboys) gets defensive, and the other half goes into the movie with low expectations and looking for flaws. The critics taint the jury pool by shitting all over a movie that 99% of people haven't seen yet. But… does that mean they're wrong? I mean, after all, the overwhelming majority of them do not seem to think that it's a quality movie, and "where there's smoke, there's fire." Right? Well, it's not really as simple as that when it comes to movies (or the entertainment industry as a whole, really, but that's a lengthy conversation for another day). It's extremely common nowadays for critics to hate a film, but for audiences to still flock to it. For example, The 2014 Teenage Mutant Ninja Turtles movie. On Rotten Tomatoes, that movie has a critic score of 21%, which isn't good. However, it made almost $500 million at the box office on a budget of about $125 million, which was enough of a showing to earn it sequel that drops this year. I've never liked film critics, ironically, and I've never believed that "film critic" should be an actual occupation. It seems like as time goes on, the masses more and more disregard the "advice" of critics and choose to find out for themselves, which is exactly how it should be. However… that doesn't necessarily mean the critics are always wrong.
OK, first off, the cruelty that the critics have been spewing is an overreaction. Things like, "Batman v Superman will make you hate Batman, Superman, and the Justice League", that it's a "total train wreck" and a "crime against comic fans". That's a bit much, fellas. Did I think it was a great movie? Honestly, no, I didn't. But I think it's a decent movie. It didn't make me hate any if the characters and I didn't feel like my fandom was betrayed. I do understand where the critics hostility comes from though. If these weren't characters with established legacy and were just some made up heroes for a movie, we'd all notice the flaws more clearly. Being fans makes it hard for us to recognize the messiness of the plot and how jumbled the story is. Things do happen in a bit of a confusing timeline, but it's really not enough to make you mad I don't think. Besides, it's Batman and Superman coming to blows. How cool is that? I can overlook some plot holes and character inconsistencies for that.
Focusing on the positive, Affleck really is great as Bruce Wayne/Batman. He's older and more hardened than we've ever seen him on screen and it works. Affleck very sincerely captures the torment and callousness of Bruce, and how that affects all aspects of his life. He's been clinging to his righteous indignation for Superman, at how he was a part of the destruction of Metropolis but is heralded as a hero, a savior, and even a god. Batman wants to see Superman answer for his role in all of it, but the only justice he knows how to exact is vigilante justice. One of the things that director Zack Snyder has been defending is Batman's apparent killing of bad guys in the movie. Yes, he does seem to kill, but I personally don't care about that because Batman has been indirectly, and directly, responsible for many deaths in comics and movies, and I think in some instances he should kill so… that's where I stand on that.
The real gem of the movie, as some have fairly pointed out, is Gal Gadot's Wonder Woman; She's simply Diana Prince for the first two-thirds of the movie. We first meet her at a party where her path crosses with Bruce's and then we see her a few more times until the end when she suits up and unleashes. She was one of things I was most looking forward to and she did not disappoint. When she showed up alongside Batman & Superman and just jumped right in to the action at the end I got so excited. Unlike the two of them, she's a trained, proven and battle-worn soldier. She doesn't just throw punches and hope for the best. She's a strategist and she thinks very quickly on her feet. Yes, I know Batman is very strong and practically a ninja. Thanks for pointing that out. However, Batman isn't faced-off-against-entire-armies-with-nothing-but-a-sword-and-a-rope strong (sorry, LASSO) so go back to your basement nerds.
The other character I was most looking forward to was Jesse Eisenberg's Lex Luthor. I knew it was going to be an unconventional take on the character, and I'm not really a purist when it comes to stuff like that so I've been eager to see what he did with it. The critics response seems to be that he was "over-the-top" and "bad". Wow guys. Really digging deep in the thesaurus for those adjectives huh. His performance was "over-the-top", but it was supposed to be. He's playing a maniacal and emotionally unstable genius billionaire with a bit of a god-complex; As opposed to just a smart billionaire with a lot of a god-complex. Gene Hackman was a great Lex Luthor, and Kevin Spacey even did a solid turn, but their performances weren't really that close to how Lex has always been written in the comics either so let's drop the bullshit about the characters not resembling their comic book counterparts.
There's a scene where he's talking to Holly Hunter's Senator Finch, and then there's a scene later where they're in a senate committee hearing and those two scenes compliment one another in a way that has you kind of chuckling at first but then by the end of the second scene you fully understand the lengths that Lex is willing to go to in order to get what he wants and it's kind of terrifying.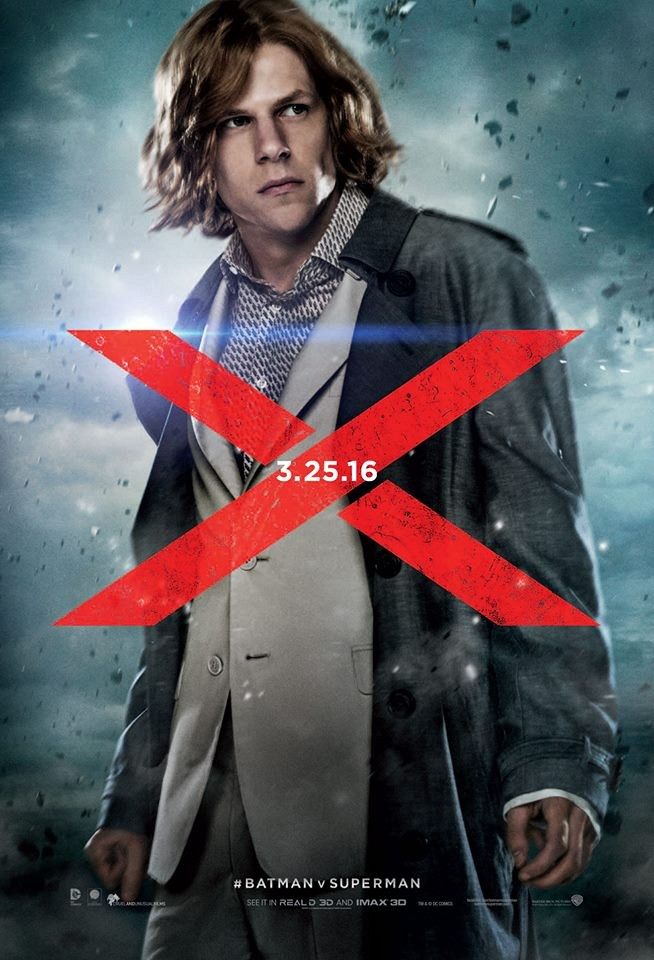 The film's visuals and cinematography are phenomenal. If there's one thing Zack Snyder knows, it's how to make a movie that at least looks amazing. There are some very captivating action sequences and exhilarating shots that few directors have the vision to capture. The final battle between Superman, Batman, and Wonder Woman against Doomsday (it's not a spoiler, that was in the trailers so don't act like you didn't know) is very exciting. The dream sequence with Batman in the desert up against an army of Superman soldiers is pretty fantastic also.
One thing I do want to address is the Justice League cameos. Yes, there are 3 other JLers who briefly appear but what kind of frustrated me was how they made Jason Momoa's Aquaman such a big deal in the marketing, even giving him his own action figures, and he's only in the movie for like 30 seconds. Really, one of the others has a more significant cameo scene than he does and I'd heard nothing about it. It was just irritating to expect a bigger role from him and have it be so inconsequential.
Parents: This movie is very dark and gritty and LONG, so just keep that in mind when deciding whether or not to take your kids. My 8yo handled it fine, and even ended up liking it when he he was initially disinterested, but there was a little boy in front of us who's grandpa brought him and he was probably about 5. He did not do so well. I'd suggest 7 or 8 is probably your target age for just old enough to handle what they're watching and not get bored.
Look, I don't have to convince you to see Batman v Superman. You're going to. I know it, you know it, and WB and DC know it. It's not an abomination. It's no Dark Knight, which Batman films will be trying to live up to forever, but it's worth watching. Hell, I'll even watch it again just for Wonder Woman. (She really was fantastic you guys.) Besides, what else are you gonna do this weekend. Wait, have you finished season 2 of Daredevil? Ok, do that first and then go see Batman v Superman (#priorities).