Synopsis form the films official website: "It's the ultimate buddy cop movie except for one thing: they're not cops. When two struggling pals dress as police officers for a costume party, they become neighborhood sensations. But when these newly-minted "heroes" get tangled in a real life web of mobsters and dirty detectives, they must put their fake badges on the line."
Cast:
Jake Johnson and Damon Wayans, Jr. play Ryan and Justin, roommates who get into all kinds of wacky situations together. Sound familiar? It should. It's what they do every week on The New Girl, where they play roommates who get into all kinds of wacky situations together. The thing is though, they have really good chemistry, on the show and in this flick. They bounce off of one another so well that I can honestly say that nether one of them brings this movie down. The main female love-interest character is played by Nina Dobrev (Degrassi: The Next Generation, The Vampire Diaries). I really liked the way she fit into this role because she wasn't the typical physically-flawless-but-brainless-supermodel-that-the-main-character-wants-to-bang. The character is kind of klutzy and even nerdy-ish. She's pretty, yes, but she's more than that and they don't force her to the background.
There are also several great supporting cast members here. Rob Riggle (21 Jump Street, The Hangover), Keegan-Michael Key (Key & Peele, MADtv), Jon Lajoie (The League), and Natasha Leggero (Chelsea Lately, Suburgatory) all have supporting to glorified-cameo roles and all execute perfectly. I'll even say that I would like to have had more of Jon Lajoie as I'm a big fan of his and felt like he was fairly underused.
Production/Cinematography:
This a buddy-"cop"-action-comedy. There's not a lot of depth to it. I'm not saying that's a bad thing, necessarily. Sometimes you just want a straightforward movie to enjoy. With that said, their are some inconsistencies with how the scenes are edited. For example, at the beginning of the movie the fellas are eating in an empty diner, and then when they leave they're picking their car up from the valet outside a nightclub. What? I felt like I had missed something.
The film is written and directed by Luke Greenfield who also directed Rob Schneider's "The Animal" and the teen sex-comedy "The Girl Next Door". I've actually always like "The Girl Next Door", mainly for the cast, which included Emile Hirsch, Elisha Cuthbert, Timothy Olyphant, James Remar, Chris Marquette and Paul Dano. Here, he takes the job of screenwriting as well as being the director. And it somewhat seems to be a trend that whatever project he's involved with, the best thing it has going for it is the cast.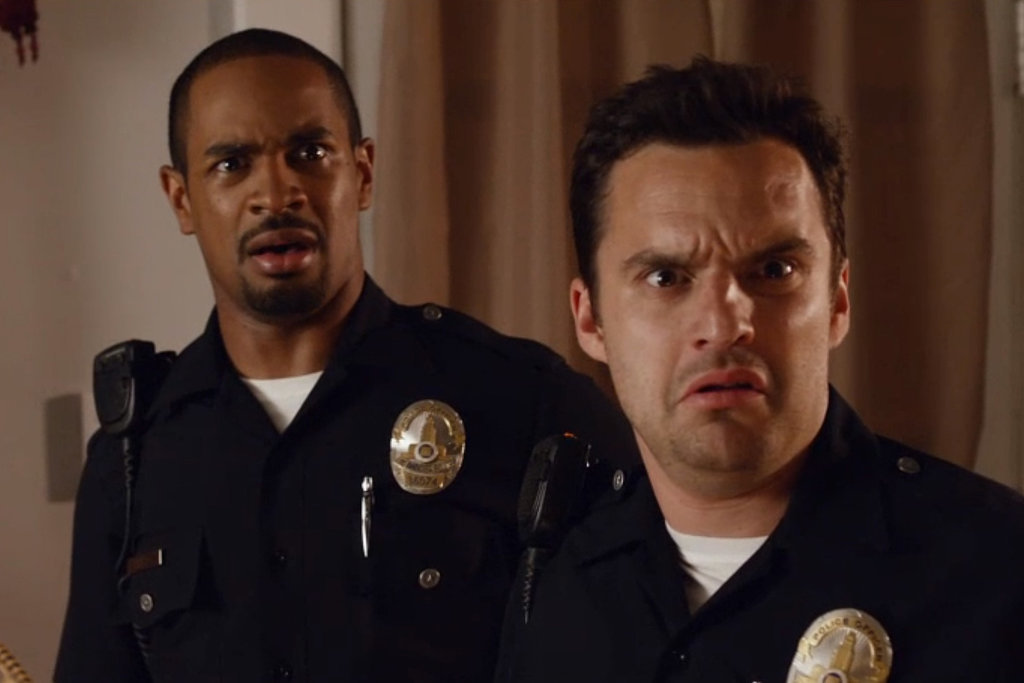 Story/Plot:
The basic plot is this: Two buddies dress up like cops for a costume party and end up being mistaken for real cops. They enjoy the power and attention so much that they continue impersonating officers and accidentally stumble into the sights of a vicious crime-lord. It's not the most original concept ever, but it's not the most generic either. It's pretty common to see the 2-buddies-get-into-some-trouble-one-of-them-blames-the-other-only-to-realize-the-importance-of-true-friendship-and-then-they-reconcile plot, but this is a somewhat clever way of playing off of that old idea.
The film borrows a lot from other popular comedy films, I noticed. There were scenes that reminded me of "Billy Madison", "Black Sheep" (Tommy Boy 2), and "Borat". Plus, the whole film plays like an Equate-brand 21/22 Jump Street: not quite the real thing, but it sort-of gets the job done. The scene that was reminiscent of Borat (you'll know it when you see it, TRUST ME) was the funniest scene in the whole movie, so at least they borrowed from comedy films that got it right.
Overall Thoughts:
Let's Be Cops, in my opinion, is not a *bad* movie. It's funny. But I feel like it wasn't the funniest it could have been. If you saw 22 Jump Street, you already saw the best buddy-cop-comedy to come out since 21 Jump Street. If you haven't seen Guardians of the Galaxy already, and you just HAVE to go to the movies, this will probably make you laugh. Otherwise, I don't think you'll be sorry if you wait for Redbox or Netflix.