Last year HBO dropped the Catch the Throne Mixtape, which was collection of hip-hop songs inspired by Game of Thrones. The album boasted hip-hop heavy hitters like Big Boi, Common, Wale and more. They made the 10-track album available for free and I remember really digging it. It was a fun concept. Take this epic show that people love so much and give it a hip-hop soundtrack. It makes sense if you think about it because Game of Thrones and hip-hop music are both servants to well-crafted linguistics. (Well, good hip-hop anyway. I won't name names, but some hip-hop is superfluous garbage and it's creators have every right to make it, but I also have every right to call them manufacturers rather than artists. That got a little off topic. Sorry.)
Anyway… I like hip-hop, so I was pleased with the Catch the Throne Mixtape. WELL GUESS WHAT?! They're back!
Last week HBO dropped the Catch the Throne Mixtape Vol. II on iTunes, and once again they made it for free! However, this time around they made a little more eclectic, adding some electronic elements (MDNR), some Spanish jams (Yandel, Raquel Sofia), and my personal favorite… METAL! Oh, I should mention. I also like metal. Actually that's an understatement. I f***ing LOVE heavy metal. And HBO went out and got a trio of some of best metal bands out there: Killswitch Engage, Mastodon, and Anthrax. (There's also a track by the band Mushroomhead that most people would probably consider "metal" but I'm choosing not to comment on that song because…)

Killswitch and I go way back. All they way to their first album. I once saw them in a venue that held like 500 people and there were only about 40. It was nuts. A year later, they sold out that same place in minutes. They're a band that rarely breaks new ground musically though. They mostly just do what it is they do REALLY well. And they do melodic heavy metal better than most other bands out there. Their track Loyalty is just that, a really fast, really melodic metal track that gets your blow flowing.
Mastodon is another band I go way back with. I've been a really big fan of theirs for years and they've proven themselves true artists by constantly evolving. They contribute the track White Walker and I swear to god(s) it reminded me of something that I could image Nick Cave & the Bad Seeds doing. It's slow and kind-of creepy. I love it.
Finally, for our last metal section entry, we have Anthrax, heavy metal godfathers who bring the thunder. Their track, Soror Irrumator, hits your ears and like a sledgehammer and leaves you with musical blunt force trauma to the head. It riffs SOOOO hard.
Hey! Let's talk about the hip-hop tracks now, shall we?! No? F*** you, we're going to anyway.
The very first track, The Oath, is from Method Man and it sets the perfect pace for the album. It opens with Jon Snow reciting the Night Watchmen's Oath and then goes into Method throwing down in that amazingly unique way that only he can.
The next hip-hop track on the album is called Never Back Down, and it's from a dude named Ty Dolla Sign who's been around for a few years and is just now starting to get some recognition for his talent. The track, and Ty in general I guess, reminds me a little of Future. Not that they're exactly alike or anything, just similar sounding to me. Ultimately, Never Back Down has a polished depth to it that makes it inherently Game of Thrones-like.
On down the line a little we find a track from the almighty Snoop Dogg, called Lanister's Anthem. What can I say… It's f***ing Snoop Dogg. It's a catchy, solid rap song, cause that's what Snoop does. He throws out that laid back flow that makes you feel relaxed, and then he builds a killer track around it. Dude knows how to make people love his music, that's for sure.
The last hip-hop track I want to mention is Lord of the Light by Talib Kweli. Ok, so Method Man's style is incomparable, and Snoop is a damn legend, but Kweli… is a FORCE TO BE RECKONED WITH. He has a focused energy that not many other rappers can match but, the thing is, he doesn't have to always come out swinging for the fences because lyrically he SLAYS. This track is one of the major stand-outs for me.
There a few other hip-hop tracks that are sprinkled in with what I've already mentioned, plus there's the Spanish-style tracks that I also alluded to, but another thing that's really neat about the album is the heavy presence of female artists. There are 4 tracks that are contributions by women and I think that's fitting and necessary due to how crucial women are to the plot and story in Game of Thrones. Honestly, I think on the Game of Thrones Mixtape Vol. III (*fingers crossed*) they could bump that number up. I mean, off the top of my head I can think of at least 10 female on Game of Thrones and the exact same amount of male characters so I feel like it's not far-fetched that they could split the balance to an even 50/50 next time around. I guess we'll find out.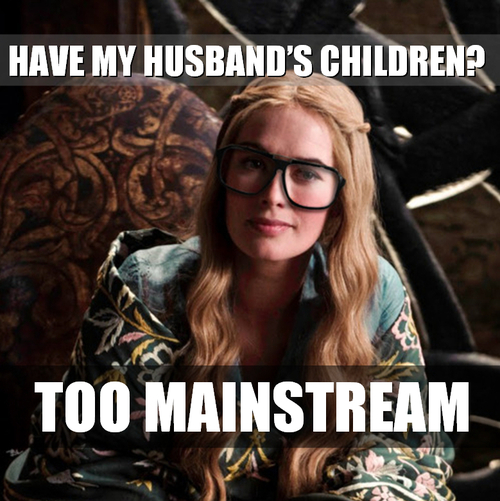 All-in-all, the Game of Thrones Mixtape Vol. II is a great album with some really solid tracks that are sure to please any GoT fan because there's something for everyone.
Check it out by clicking the link below, and let us know what tracks you like most!