The holiday season is upon us again and that means getting together with family and friends, seasonal coffee drinks from Starbucks, frantic gift buying, and, most importantly, annual viewings of our favorite Christmas movies!
When we first had the idea of doing a "favorite Christmas movies" list we ran into a slight problem. We all picked one movie as our favorite…
So… what to do? We can't ALL write about the same movie. That would be redundant. Wouldn't that be redundant? I think it would be VERY redundant. Instead, we've all chosen to write a little bit about our 2nd favorite Christmas movie, because we all found that we differ greatly on what we would choose to follow Christmas Vacation with. Enjoy and let us know what your 2nd favorite Christmas movie is in the comments section down below!
Cam – Die Hard
Die Hard is the quintessential Christmas movie.  The movie follows John McClane, a hard-boiled New York City cop, as he visits his estranged wife, and their two daughters on Christmas Eve.  His wife's Christmas Eve office party quickly devolves into chaos as Hans Gruber, played by Alan Rickman, and his European cronies do their best Grinch impersonation by crashing the party and killing it's attendees (they never were all that great at impressions).  It has everything that regular Christmas movies have – family, giving (of bullets), and John McClane says Jesus numerous times (usually mixed in with some muttered obscenities) – but it also has Bruce Willis in his heyday, Yipee-kai-yaying around Nakatomi Plaza taking out German nationals.  Oh! and it has Carl Winslow from Family Matters who gets the best Christmas present of all – the nerve to kill again.
Paige – The Muppet Christmas Carol
It's that time of year again, most people's favorite time of year, Christmas time! Unless you are Ebenezer Scrooge. This wouldn't be a Christmas movie list without some version of Charles Dickens's classic tale A Christmas Carol, and I why not the best version of it? That's right, I'm talking about The Muppet Christmas Carol. A musical adaptation of a timeless story of redemption. The Great Gonzo narrates the story as Charles Dickens along with Rizzo the Rat. He introduces Scrooge, who is played by the great Michael Caine, also known as Austin Powers's Dad from Goldmember. The muppets who play the rest of the characters of the story are perfect. Kermit plays Bob Cratchit and Miss Piggy of course plays Mrs. Cratchit. The two old guys that heckle everyone play the Marley brothers. Unfortunately the Swedish Chef has a minor role in the movie. It follows the traditional story very well will some songs thrown in there. I love all songs except for one, it makes me cry just about every time. It's the love song between young adult Scrooge and he potential wife. When I was watching the movie on Netflix I was mentally preparing myself for that part of the movie and it was skipped. I was both sad the song wasn't there and thankful that I didn't have to deal with the headache that follows crying. I did forget how dark the Ghost of Christmas Yet to Be was. How freaking terrifying must that be for someone? Anyway, the story ends the same as it always does, Scrooge has a massive change of heart. He sends a little rabbit kid to go buy a giant turkey and defying the laws of physics, carries it all the way to the Cratchit's house to celebrate Christmas. And of course it ends with Tiny Tim the Frog saying, "God bless us, everyone!"
Bill – Bad Santa
This might seem like a weird pick for a favorite Christmas movie, but hear me out. I personally think this is one of the funniest Christmas movies ever made, now my reason: my dad is a professional Santa. Each year he goes to South Carolina and spends damn near 10 hours a day smiling and pretending to be the best damn Santa in the world, scratch that, he is the worlds best Santa. But, after starting 2 weeks before Thanksgiving, he really wants to turn into Bad Santa during his last week of the job. So, each year when he comes home, the family typically gets together and watches this film, so my dad can vicariously live through Billy Bob Thornton.
Cody – Elf
Please excuse any typos as I'm writing this from my iPad, sooooo hip I know. I don't think any movie shares the sheer joy, confusion, and innocence that really sums up Christmas like Elf does. Ever since it came to theaters, every year  I've watched the movie starting on Thanksgiving evening and probably 2 times a week until Christmas. Mostly because my kids love it so much, but it really brings in the Christmas spirit. I think this movie is the Christmas movie of the millennial generation, as far as coming into adult hood goes. So for me it marks the beginning of adulthood Christmas and all the great memories associated with it. For a quick game, let's play fill in the blank of memorable quotes from the movie.
"I don't know… I've never_______ kittens before"
"I just like to smile, smiling's ____ ______"
" you smell like ____ & _____. You don't smell like Santa"
"We elves try to stick to the four main food groups: _____, ____ ____, ____ _____, and _____"
"Buddy the elf, what's your favorite _____?"
Happy holidays everyone!!
Stephen – Ernest Saves Christmas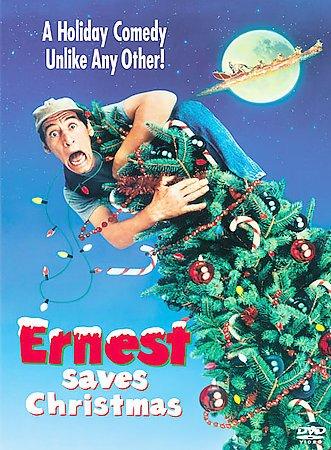 While it isn't my personal favorite Ernest film (that honor would have to go to Ernest Goes To Jail), I do believe that Ernest Saves Christmas is probably the most accessible of the Ernest movies. You have to really appreciate the brilliance of Jim Varney to enjoy Ernest Goes to Camp or Ernest Scared Stupid, but you really just have to love Christmas to enjoy this holiday classic. Then again, maybe I'm just biased since I grew up watching his movies. But Ernest Saves Christmas is just so great. There are little jokes that you'll miss if you don't pay attention (at one point, as the camera is panning away from him, Santa Claus says about Ernest, "He grew up with this guy… I think his name is…Vern?"), and it's certainly at the top of the list of easily quotable Christmas movies ("Cause you am him." "Helper Elms." "Is this the way government really works?!") Ultimately though, I pick Ernest Saves Christmas as my 2nd favorite Christmas movie because it taught me how to sing "O Christmas Tree" the correct way…

Jeff – Dr. Seuss's How the Grinch Stole Christmas
"Dr. Seuss's How the Grinch Stole Christmas" is Jim Carrey in his comedic heyday. Not that the Carrey we see today in his more recent comedic and dramatic roles is any less brilliant. He's just had to reinvent himself knowing that people were getting tired or were about to get tired of the same shtick Carrey had been using since his days on "In Living Color."
But most of us weren't there yet when the film adaptation to the classic children's book and 30 minute cartoon came out in 1999. Carrey was born to play this role, especially the version that required the director, Ron Howard, to add an extra hour and a half of story. And while that extra 90 minutes required a bit of veering away from the original story (giving the who's in Whoville a more greedy side than the usual overdose of Christmas spirit they had in the Seuss versions), it gave the film the necessary substance it needed to go two hours, make us sympathetic to Carrey's brilliant portrayal of a Christmas icon, and provided a deeper story that appeals to all audiences than even the Dr. Seuss original did.
Robbie – The Nightmare Before Christmas
As a member of the Tim Burton fan club, it is my distinct pleasure to be able to list The Nightmare Before Christmas as my 2nd favorite Christmas movie. In truth, it is my 1st, 3rd, and 5th favorite Christmas movies as well (with my 4th favorite being Tim Burton's Batman Returns). I love cuddling up with my Nightmare Before Chrostmas-movie-poster-fleece-blanket and my Jeck Skellington beanie, and watch it every single day from Thanksgiving to Christmas, and then again from New Years Day until Thanksgiving (between Christmas and New Years I watch Corpse Bride and Edward Scissorhands). It is truly the greatest Christmas/Halloween film of all time. Now, please excuse me while I go listen to the soundtrack in Hot Topic.*
*Editor's Note: Robbie Green did not write this, and is not, to this editor's knowledge, a member of The Tim Burton Fan Club. The person liable for this slanderous ridicule will be dealt with swiftly.