Marvel's "Captain America: Civil War" finds Steve Rogers leading the newly formed team of Avengers in their continued efforts to safeguard humanity. But after another incident involving the Avengers results in collateral damage, political pressure mounts to install a system of accountability, headed by a governing body to oversee and direct the team. The new status quo fractures the Avengers, resulting in two camps—one led by Steve Rogers and his desire for the Avengers to remain free to defend humanity without government interference, and the other following Tony Stark's surprising decision to support government oversight and accountability.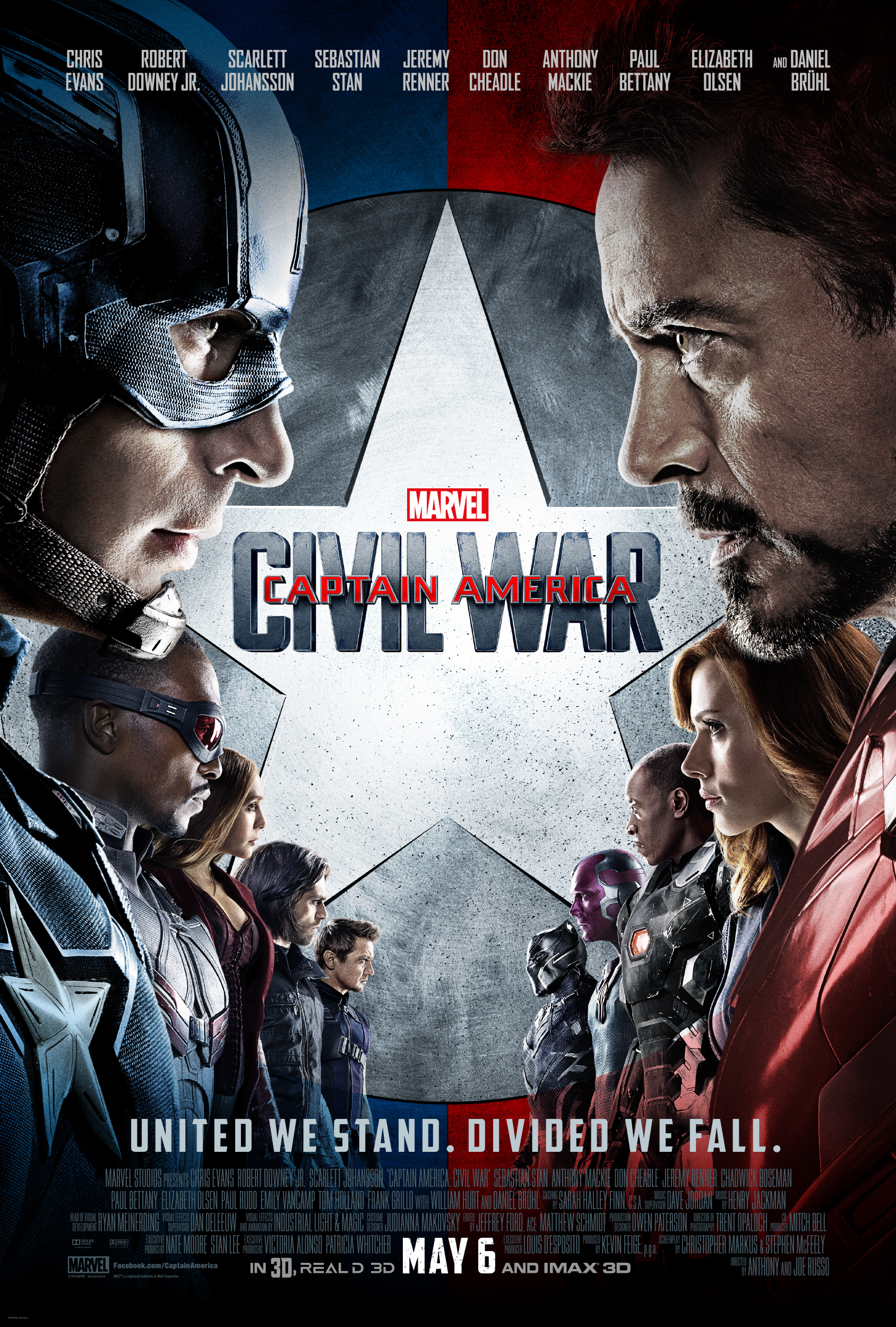 You're going to hear, if you haven't already, a lot of things about this film that are… exaggerations. You're also going to hear things that sound like exaggerations but are 100% correct, or at least 12% correct. (I suppose an argument could be made for 15…) You're going to hear people say that this is what Avengers: Age of Ultron should have been, that it's good in spite of Captain America himself, that Spider-Man steals the show, and various other assessments and critiques. Without spoiling anything specific, allow me to clear up some of the questions and concerns you might have rattling around in your head.
First off, Spider-Man. Those of you concerned about Marvel revealing too much of him in trailers, stop worrying. That was only the tip of the web-slinging iceberg. There's so much more to love from him in the final product, and you will not be disappointed. Does he steal the show? Not entirely. Now don't get me wrong, he's great. Maybe the best on-screen Spider-Man of all-time (or potentially at least). I wouldn't say that he steals the entire show, however, but he does have a surprisingly commanding presence on screen. Tom Holland was clearly the perfect actor for the part because his Peter Parker and Spider-Man aren't different. With Toby Maguire and Andrew Garfield, they both played Parker and Spidey with different personalities. As if putting on the mask made them someone completely different. Though it's only brief in the grander scheme, what we see Holland do is just play them the same. A more unified Parker/Spider-Man, if you will. It's very refreshing and after the credits finished rolling I found myself way more excited for the future of Spidey.
Another thing I've heard is that this movie achieves what Avengers: AoU failed to. To be honest, I'm not sure what that even means. Like, I clearly didn't watch the same movie as the people who feel this way because AoU was enjoyable for me and I understood it. (Also, it banked over a billion dollars so…) I'm not gonna spend a whole lot of time defending it, but I do feel like it's a disservice to the journey that lead us here to treat any aspect of it as superfluous. There are themes that have been consistent through every MCU film since Iron Man that come into play in Civil War and without any one of them this film wouldn't be able to complete in the way that is does. I know, I'm being vague. I don't want to give away anything, I just want you to take this into consideration when you're watching the movie and trying to compare it to others.
Then out of that attitude, emerges the idea that it's not really a Captain America movie, it's an Avengers movie, and Cap isn't all that crucial. These people… should not be allowed to watch movies. At all. Ever again. I am one to rarely "can't even", but this makes me not be able to even. I've never been eating a cheeseburger and thought, "You know what this doesn't even need? Meat." A shit ton of condiments between two buns isn't a meal, it's sad. Why would you think that the ingredient that pulls everything together is the one thing you can do without? Cap's reluctant but brave resistance of the newly implemented status quo is what moves the entire plot. He may not necessarily be the engine, but he's definitely the fuel.
So what is the engine? Well, that would be the brilliant Daniel Brühl as Zemo. His role has been mostly downplayed from the very beginning, but he's what puts just about everything happening here into motion, and once the third act concludes you understand his motivation and significance. Brühl brings a human depth to the Zemo character that he lacks in the comics. It's one of those things where you could argue that they really didn't have to name him Zemo at all, but the nod to the source material is nice gesture.
I also want to acknowledge how great Paul Rudd is as Scott Lang/Ant-Man. He proves himself a perfect team member and does more than his fair share of fighting. I feel like his contribution to the film could get overlooked by all the other great performances and moments, but he doesn't miss one beat picking up right where he left off in Ant-Man, and helping Spider-Man with lightening the mood. The first act of the film is pretty serious and rocks back and forth between action sequences to story heavy scenes with mostly dialogue. Once those two show up though, you're laughing uncontrollably.
Another performance that really stood out for me was Martin Freeman as Everett K. Ross. It's such a unique and impressive performance from Freeman, who usually plays more shy, timid, and/or awkward characters. He turns in a very strong, very confident portrayal. I don't want to say that I didn't know he had it in him, but he seems like such a passive, good-natured guy that I really didn't.
Even though I've only addressed a few, every single performance was perfect. There's not one weak link in the entire cast. Plus, the story is compelling and will have you guessing all the way through to the end. Even the parts that seemed predictable were only partially so. When you think you've figured something out, just know that there's more to it that you haven't even considered. I think the Russo Bros. have crafted a damn-near flawless blockbuster superhero film. It may not have the same type of suspense and depth that CA:WS has, but it's a different type of film also, so it's tough for me to superficially analyze the differences.
I've always sided with Cap in the Civil War debate. Part of that may be that I just don't like Tony Stark in the comics, but RDJ is great as Tony and, while I still don't find myself swayed to his point of view, I feel like this film did a great job of expressing why he feels the way he feels and that his actions are propelled by emotion because of his personal experiences. Cap is emotional is some ways too, but there are never moments that he seems out of control. Tony is emotionally unstable and therefore you wonder how much control he's able to maintain over himself. I don't worry about Cap taking things too far, and I feel like Tony has to stop himself from taking things too far. In some cases he fails and almost everyone suffers for it. It's a cycle with this guy.
Final word: Captain America: Civil War is one of the best comic book movies ever made. It's packed full of action, mystery, humor, and raw emotion. It collects every feeling you could possibly feel and condenses it into a two-and-half-hour roller coaster ride that leaves you excited and eagerly anticipating the future of the MCU, rather than lethargic and confused. You'll be smiling ear to ear as you exit the theater and you'll almost certainly seriously consider just walking back up to the box office to buy a ticket to the next showing. Save yourself the trouble and just go ahead and buy them at once so that you can keep your seat. You can thank me later.